Dinitrogen tetroxide with strong oxidizing
Views:1 Author:Site Editor Publish Time: 2021-05-07 Origin:Site
Dinitrogen tetroxide, chemical formula N2O4. Covalent compound, colorless gas or liquid, strong oxidant, toxic and corrosive. It is easily decomposed into a reddish-brown nitrogen dioxide gas, which has the toxicity of nerve anesthesia.
Nitrogen and oxygen compounds have strong oxidizing properties and are often used as oxidants in rocket propellant components. N2O4 is formed by superimposing nitrogen dioxide. The solid, liquid and gas are colorless. As the temperature increases, nitrogen dioxide increases and the color darkens, from brown to reddish red. Under atmospheric pressure, N2O4 has a boiling point of 21.2°C and a melting point of -11.2°C. The density (20°C) is 1.446g/cm3. Because the N2O4 molecule has a symmetrical structure, it is relatively stable. Soluble in water, carbon disulfide, etc. But its miscibility with water is limited. At 0°C, there are two layers of liquid with a content of 47% and 98% (mass). The critical temperature of blending is 67°C. At this time, there is no more layering, and the N2O4 content in the liquid is 89% (mass). Easily react with water to form an equimolar mixture of nitric acid and nitrous acid. When the temperature rises, nitrous acid decomposes into nitric acid and nitrogen oxides. It is a strong oxidant. It mixes with ammonia and explodes at low temperatures. N2O4 forms molecular adducts with many organic solvents such as esters, ethers, ketones, and nitriles. Liquid N2O4 corrodes certain metals (alkali metals, alkaline earth metals, zinc, cadmium, mercury, etc.) to generate metal salts and release nitric oxide.
Molecular Structure: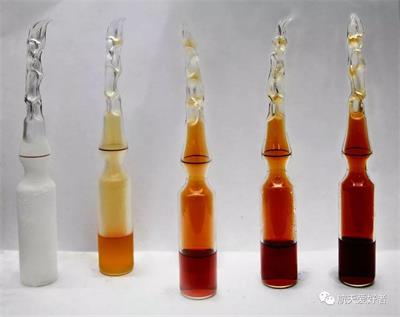 Molecular structure N atoms are bonded by sp2 hybrid orbitals, and the molecules are planar molecules. N2O4 can be formed by the combination of two nitrogen dioxide molecules. One of the 2s electrons of the central atom N of the nitrogen dioxide molecule is excited to the Pz orbital, and then sp2 hybridization is adopted to form a σ bond with two oxygen atoms (using sp hybridization); two of the nitrogen Pz orbitals One electron and one electron in the Pz orbitals of two oxygen atoms form a three-atom four-electron π bond; the unbonded sp2 hybrid orbitals of the nitrogen atom in every two nitrogen dioxide molecules overlap to form a σ bond, thus forming one N2O4 molecule. In summary, there are 5 sigma bonds in each N2O4 molecule, and 2 three-atom four-electron π bonds form a six-atom eight-electron large π bond. The shape of the molecule is similar to that of ethylene. [1]
chemical reaction:
Dinitrogen tetroxide and nitrogen dioxide are transformed into each other according to the following equation: Configurations of various oxygen and nitrogen compounds.Configurations of various oxygen and nitrogen compounds.N2O4==2NO2 (reversible). When the temperature rises, the reaction proceeds in the direction of generating nitrogen dioxide; so in fact, the finished product of dinitrogen tetroxide is an equilibrium mixture with nitrogen dioxide. Nitrous tetroxide reacts with water to generate nitric acid and nitrous acid: